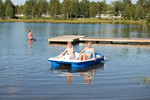 We offer a lot of fun things to do at Storumans Camping.
We have minature golf and a padle boat that you can rent.
You can walk or run around the lake and use our gym and after that you can relax in our sauna.
Storumans Camping have a tennis court and a gymnasium for rent. Around the lake there are places where you can barbeque and have a nice evening looking out on the midnightsun.
We have two playgrounds for the children.
A few kilometers away there is an summer ski trail.
The first weekend after midsummer a big festival is arranged here in Storuman. You can stroll around in the fleemarket, eat all different kind of foods.
There will be armwrestling contests and you can take a ride in the steam train.
And the biggest event is the dance at night "Dansgalan" with famous stars from Sweden performing.
In Storuman you will find aktivitetshuset, they offer you a libary, bowling and you can play a game of pool.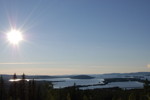 Umeälven go through the whole city of Storuman, it builds islands that is clearly seen from the fantasic view point on Stenseleberget, wich is a must when you visit Storuman.
Luspholmarna is another must it´s the island that you see from the view point, it´s a short walk from Storumans Camping.
During the summer months Hembygdsgården is open with their little museum.
It´s great fishing in the lake Uman. You can catch all sorts of fish.
Storbäcken, Juktån and Paubäcken is also near by.