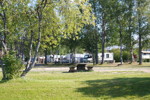 The camping piches are beautifully located close to the lake.
You can put your tent near by the lake.
All places have just a close walk to our nice servicehouse where you will find, showers, wc, relax area with sauna, laundry room and kitchen.

Storumans Camping is a member of the organisation SCR, It means we need a valid Camping Key Europe card, if you don´t have that we will assist you with the card. You can also order the card from www.camping.se.
Camping Key Europe is a european collaboration and the card is the key to the campsites that are members in the organisation.
Each year the card is filled with nice offers.
Camping with electicity
Camping with out electricity

Tent 1 pers
Tent 2 pers
Family 2 adults+children
Extra person 50kr
All prices are per night